Up

An Unusual
Childhood

(You are here.)
Down



Need to
find your
bearings?
Try these
navigation aids:
If this is your first
visit, please stop by:
Something to share?
Please:

Available in Française, Español, Português, Deutsch, Россию, 中文,
日本,
and others.

ilbur and Orville Wright grew up in a close, caring family. Their father, Milton Wright – a bishop in the Church of the United Brethren – was a strict disciplinarian, but he and his wife, Susan were also warm, loving, protective, and encouraged intellectual interest and constructive activity. Susan, the daughter of a skilled carriage maker, was remarkably mechanically adept and she taught her children to make all manner of things. Although Milton didn't have the in-depth knowledge of tools and techniques that his wife had, he had been a farmer for most of his young life and had worked extensively with his hands. He certainly respected and encouraged his children's constructive activity. He also exposed his children to the wide world beyond their horizon through his extensive library and the letters he sent home when he traveled on church business.
The Wright brothers had their share of squabbles, like siblings everywhere. But they were much closer than most. Of his relationship to his brother, Wilbur wrote:
"From the time we were little children, my brother Orville and myself lived together, played together, worked together, and, in fact, thought together. We usually owned all of our toys in common, talked over our thoughts and aspirations so that nearly everything that was done in our lives has been the result of conversations, suggestions, and discussions between us."
Because of Milton's vocation, the Wright family were on the move during Wilbur and Orville's school years. Milton's church assignments took the family to Indiana, Ohio, Iowa, back to Indiana, and finally back to Ohio. In 1884, they settled down for good in Dayton, Ohio.
Timeline:

Milton Wright, as a rising young clergyman in the Church of the United Brethren in 1871.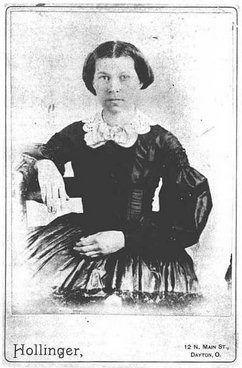 Susan Koerner Wright in 1870. Her father, John Gottlieb Koerner, was a carriage maker and master craftsman in both wood and metal.